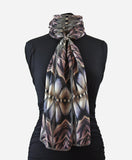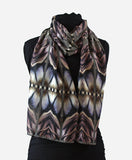 Ferdinand
Inspired by the beautiful botanical illustrations of Ferdinand Bauer, the abstracted tulip patterns paired with graphic stripes and deep, rich colours in this scarf will have you turning heads wherever you go. Dimensions are 16"X72" so this scarf is versatile enough to be worn in any number of traditional ways, or simply draped over your shoulders like a shawl or gorgeous wrap. 
Ethically handmade in Canada each item is made only after your order is placed: please allow 3-4 weeks for delivery.
Fabrics & Features:
8mm Silk Habotai
Luxuriously lightweight and soft
Lustrous sheen enhances the beauty of printed designs
Drapes elegantly for a sophisticated look
Design is very clearly visible front and reverse (about 95% visible on back side of fabric)
12mm Silk Charmeuse
Silk charmeuse is one of the best known types of silk. It is shiny on the surface and matte underneath.
High shine enhances prints and the fabric has high drapability. Silk charmeuse flows beautifully and has a liquid-like texture which makes it feel wonderful to wear.
About 50% visibility of design on reverse side 
Can hold a structured fold better than a silk habotai
Silk Modal
Merges the softness of silk with the durability of modal
low luster and light texture of a slightly looser weave, fluid drape
Offers breathability and excellent moisture-wicking properties
65% visibility of design on reverse side
Satin Charmeuse (Polyester)
Mirrors the sheen, drape  and feel of silk while offering enhanced durability of polyester
Affordability without compromising on the luxurious feel
Resistant to wrinkles and shrinkage, easy to care for
Design is about 40% visible on back side.
Polyester Chiffon
Lightweight and semi-sheer, perfect for a delicate look
Easy to care for, offering durability and long-lasting beauty
Low lustre, for those not wanting the sheen
Design is about 80% visible on reverse side
CARE Instructions:
Printed and sewn by hand in Canada.
Vivid print will not fade with wear or washing.
Hand wash in cold water, gentle detergent and hang to dry, can be ironed on the synthetic setting, or silk setting if needed
Silks are printed with a permanent reactive ink process that will not fade or wash away.